Welcoming new life into the world is a moment of profound beauty and joy. Maternity photography preserves the ethereal glow of expectant mothers, celebrating the miracle of creation. In a recent studio session in the heart of Denver, I had the privilege of capturing this radiant essence using the Canon R6 and the Sigma 50mm lens, basking in the soft embrace of natural light.
The Story Behind the Images
As the morning sun filtered through the studio windows, a serene atmosphere enveloped the room. Our soon-to-be mother, Mikaila, exuded a quiet grace that illuminated every corner of the space. We incorporated a selection of gowns from my photography wardrobe, featuring a palette of pastel tones, floral motifs, and solid colors.
The Sigma 50mm f/1.4 Art lens, renowned for its impeccable sharpness and stunning bokeh, was my lens of choice. Its 50mm focal length provided a gentle compression that flattered Mikaila's form while allowing me to maintain a comfortable shooting distance. This lens effortlessly captured the intimacy and emotion of the moment.
Natural Light: The Magic Ingredient
Denver's Studioten6 famed natural light poured through the studio windows, creating a soft and enveloping glow. I positioned Mikaila at an angle to the light source, allowing the gentle shadows to contour her figure and highlight her radiant features. The Sigma lens worked in harmony with the Canon R6's sensor, rendering the warmth and subtlety of the lighting with breathtaking precision.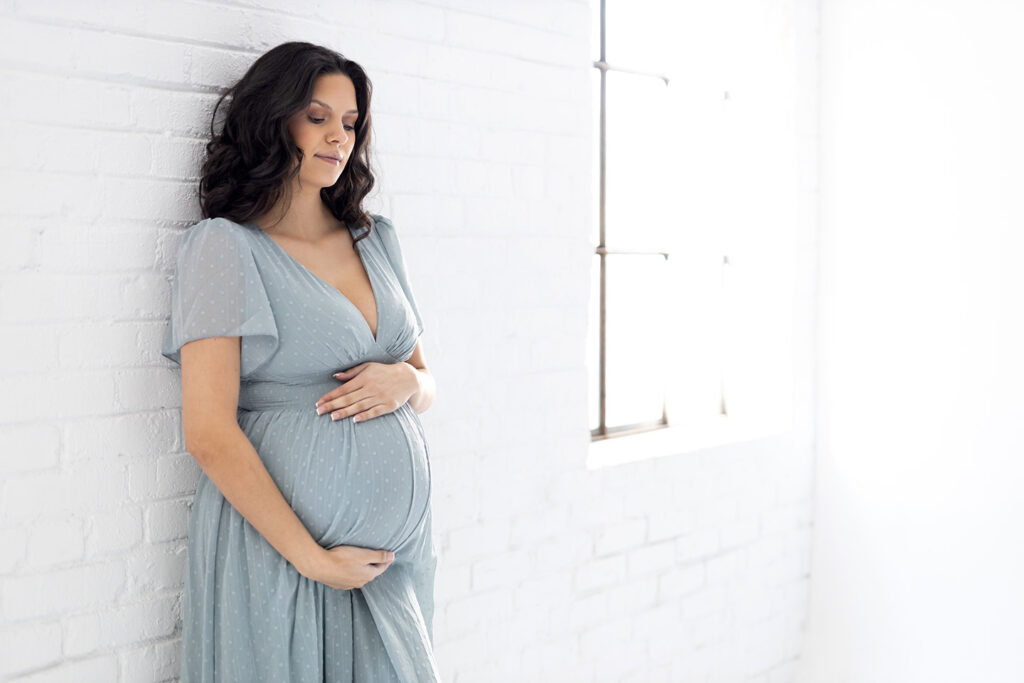 The Canon R6: A Trusty Companion
The Canon R6, a mirrorless marvel, proved to be the ideal companion for this shoot. Its low-light capabilities, impressive dynamic range, and reliable autofocus ensured that each frame was a masterpiece in the making. The R6's full-frame sensor collaborated harmoniously with the Sigma lens, producing images with exceptional clarity and depth.
Creating Timeless Portraits
As the session unfolded, I aimed to capture the timeless beauty of this fleeting moment. The Canon R6's Eye Detection AF locked onto Mikaila's eyes. The intimacy of the moment was beautifully encapsulated as she tenderly cradled her belly, lost in the anticipation of motherhood.
Preserving Precious Moments
Maternity photography is about more than just images; it's about preserving a chapter of life's journey. The Canon R6 and Sigma 50mm lens allowed me to create a visual narrative that will forever remind Mikaila and her family of the love, anticipation, and beauty of this remarkable time.
As photographer, I am honored to capture these exquisite moments, and with the Canon R6 and Sigma 50mm lens, I do so with profound respect for the beauty and significance they hold.
---
---
You might also like
---